bateeq Participates in Plaza Indonesia Fashion Week 2018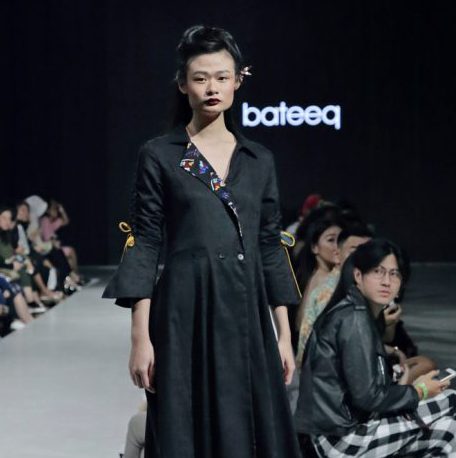 On 22nd March 2018, bateeq participated in the Plaza Indonesia Fashion Week 2018 (PIFW) – an annual fashion show event organised by and held at the Plaza Indonesia shopping centre in Jakarta. PIFW 2018 was themed 'Kain' – translated as fabrics in the Indonesian language – in celebration of the diversity of the country's traditional textiles. bateeq took this opportunity to present its latest ready-to-wear Fall/Winter collection titled, 'Kelir', which is a contemporary take on two of Indonesia's most ancient artforms; batik and shadow puppet plays (Wayang Kulit). Representing bateeq at the event was its CEO and Creative Director Mrs Michelle Tjokrosaputro.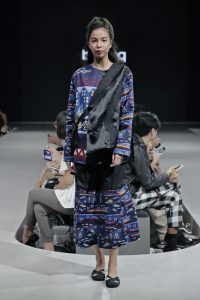 The collection incorporates the age-old batik motifs Mega Mendung, Kawung, and Parang with elements from shadow puppets. This included integrating the motifs Arjuna Kenanga, and Clouds and Trees in addition to the magnolia flower — often depicted in the plays — into the collection. Arjuna Kenanga symbolises the importance of preserving one's ancestral heritage to learn its wisdom and values whereas the Clouds and Trees motif implements themes portraying animals, mountains, rivers, and plants that are often found in Wayang stories; symbolising the need to be calm, strong, and sustainable.
In demonstrating its ability to effectively utilise diverse art techniques, bateeq used laser-cutting technology to apply the Trompe-l'oeil method, creating silhouette-type effect on the motifs. This 'shadow-like' effect is further combined with varying tones of blue, red, and white to truly capture the colour themes and mood of the fall and winter seasons.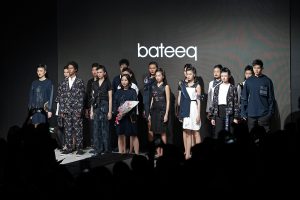 As is a trademark of bateeq's collections, the brand uses a number of environmentally friendly materials. The Kelir collection utilises Tencel — a synthetic fibre — that is fully biodegradable and thus presents an alternative to cotton. Other materials used in the collection include jacquard woven fabrics — made from wool-cupro, cotton, and polyester.
Through this event, bateeq illustrated batik's flexibility to undergo changes and innovation that are in-line with modern fashion trends. Through this strategy, the brand continues to gain steadfast popularity in Indonesia and beyond.